Have you ever reached out to pick up your coffee cup and nearly dropped it due to the sharp spike in elbow pain? Or been sidelined from your golf league due to the repeating pain on the inside of the elbow? Medial and lateral elbow pain can sneak up, seemingly out of nowhere, to put a real damper on activities of your daily life – work, home, and hobbies. Many muscles of the forearm and hand cross the elbow and when irritated make movements of the wrist, hand and fingers painful and often weak. These conditions are often overuse in nature, leaving tissues painful and weak for weeks or months on end, sometimes even longer.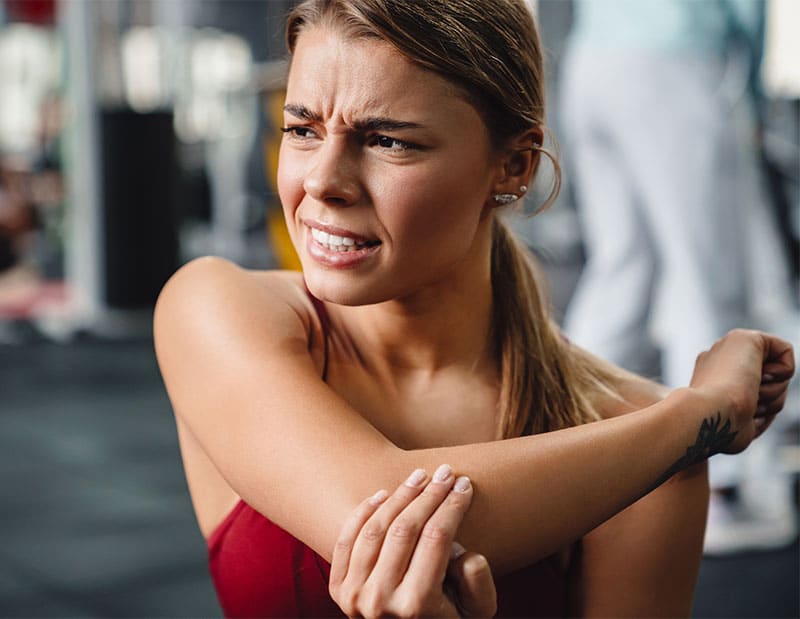 While the muscles around the elbow are smaller in comparison to muscles of the shoulder complex or hip complex, there is overwhelming evidence that strengthening those muscles is just as effective to reduce pain and restore function as any other region. A treatment approach for individuals dealing with elbow pain, whether medial (often referred to as Golfer's Elbow) or lateral (often referred to as Tennis Elbow) centers around a progressive strength program to increase strength and tissue health of the structures of the shoulder, elbow, and forearm. These exercises will have you starting with isometric contractions and advancing to concentric and eccentric exercises utilizing compound shoulder and arm movements.
Additional treatments to reduce elbow pain include:
Dry needling to the muscles of the upper and lower arm
Myofascial decompression (cupping)
In addition, as with all of our plans of care, we're dedicated to not just helping you reduce your pain, but improving your overall quality of life by also addressing lifestyle factors such as nutrition, sleep, and stress. By combining hands-on treatment with exercise and lifestyle modification, our goal is for you to leave physical therapy not only feeling better, but as a stronger, healthier person overall.
Do you want to learn more or get started with treatment?
Give us a call, text, or email today!